Store bought grape jelly just doesn't have the same rich, fragrant taste that comes from home grown grapes.
We have a Concord Grapevine that shades our entire patio each summer.  September-October we have enough grapes to can jars and jars of jelly (while the local possum still manages to steal his share)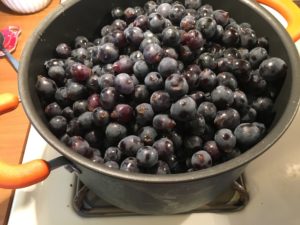 First clean the grapes of stems and leaves.  Wash well and let dry. I probably used between 4-5 pounds of grapes.  Sterilize the jars and lids you will use and place them on a clean dish towel.  Place grapes and 1/2 cup water in a pot, turn heat on low and begin smashing grapes.  Once grapes are well smashed, bring to boil then reduce heat and let simmer for about 10 minutes.  Line strainer with cheesecloth and drain grapes into strainer over a heat proof bowl.  Allow time for the grape juice to drain.
Transfer grape juice, along with 7 cups of sugar (you can reduce this amount if the grapes are very sweet, however you may need to use low sugar pectin) stir bringing to a boil.  Boil for one minute, add 1 pouch of liquid pectin, bring to boil again.
Stir in 2 Tablespoons of butter (to reduce foaming) and remove from heat.
Skim off any foam, then pour into sterilized jars.  Place lids and rings on jars, making sure there is no jelly on the edge of the jar that may effect the seal. Put sealed jars on rack in canner or pot and add enough water to cover by 2 inches. Bring to a boil, covered, then boil 10 minutes. With tongs, transfer jars to a towel-lined surface to cool.  You will hear the lids pop, an indication that they are properly sealed.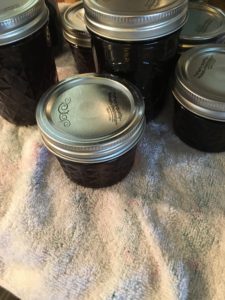 Enjoy!